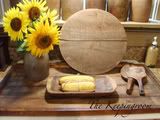 I decided to try Photobucket.
I added my name to my photos, then posted to Blogger
and they were way to big, so I resized.
Now, they are to small and I can't get them to resize again.
Dang thing anyway!
I thought I'd show you what I did to hide my sink and range yesterday before Judy came.
The above pictue is my sink area, and the bottom my stove top.....my favorite.
Sorry the pictures are so small.
I'll figure out this whole Photobucket thing sooner or later!